In  Memory of John Lenahan
Obituary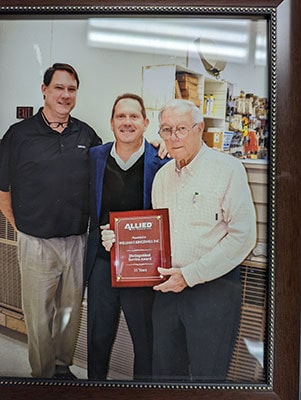 John M. Lenahan, 82, of Rockville, MD passed away on December 28, 2020. Son of the late John T. and Lucille Butler Lenahan. Survived by his wife, Peggy Lenahan, as well as his three children, Denise Brentzel (Ronnie) of Harwood, MD, Pamela Lynne of Boonsboro, MD, and Robert Lenahan (Jennifer) of Shady Side, MD. Predeceased by his daughter, Karen Lenahan. Also survived by four grandchildren, one great-grandchild, sister Ann Dreyer (Robert) of Wheaton, MD, and brother James Lenahan (Diana) of Silver Spring, MD.
John came from humble beginnings and worked up from there. As a young man he held many jobs in gas stations, delivering newspapers and whatever he could do to make a living. He started at William E Kingswell, Inc., as a stock boy at the age of 15 and with the help of Mr. Kingswell worked his way up through the business. After Mr. Kingswells passing John took over the company and built it into what it is today.  He is highly respected and admired by all who have known him.
At just 12 years of age he built his first boat and from then on he was happiest sitting at the helm of every boat he owned throughout his life. He loved to travel and thanks to his success in business he and Peggy were fortunate to travel to many destinations throughout the world. He loved to travel on cruise ships with family and friends. He was a devoted family man with a drive to succeed not for himself but for them, his family.  He is deeply loved and forever missed.