Commercial HVAC
Commercial buildings have unique requirements, whether you are retrofitting an existing building or designing a building from scratch. William E. Kingswell has over 90 years of experience working with both to develop innovative, energy-efficient solutions that will stand the test of time. We choose to partner with reputable manufacturers with strong warranties so that you can rely on your commercial HVAC system.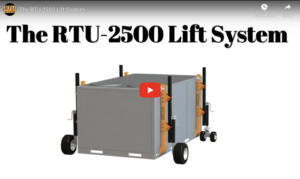 Innovative Solutions
Many of our commercial HVAC manufacturers are dedicated to innovation, and we are too! We stock the latest in HVAC technology, from smart thermostats to extremely efficient thru-the-wall units. We have HVAC solutions for buildings of every size, including small offices and tall skyscrapers.
We Help You Do More with Less
Energy efficiency and environmentally-friendly heating and cooling options are becoming more of a priority every year. William E. Kingswell can help you ensure that you are cutting costs wherever possible while also ensuring a durable system that will last the test of time. Many of our commercial HVAC systems deliver phenomenal performance while using small amounts of energy and decreasing your building's environmental impact.
Leaders in Availability
We have many commercial HVAC units ready-to-go, so you don't need to worry about waiting for your unit to come in stock. If William E. Kingswell doesn't sell what you are looking for, we will go above and beyond to help you find the product you need—even if you choose to purchase it from someone else. Excellent customer service is just who we are!
Wide Product Range
William E. Kingswell has a huge range of commercial products for both traditional commercial buildings and multi-family units. We stock the brands that you already trust, including:
JRJ Manufacturing
Braburn
We Are Proud of the Company We Keep
William E. Kingswell has remained a distinguished provider of commercial and residential heating and cooling services since 1937. We have provided an unmatched level of customer service to all of our clients, and we enjoy being the preferred HVAC equipment distributor of countless customers. We offer a comprehensive range of high-quality heat pumps, boilers, unit heaters, HVAC accessories, and more. William E. Kingswell works with businesses and homeowners throughout Maryland, Washington, D.C., and Virginia, including Baltimore, Frederick, Annapolis, Fairfax, Manassas, Richmond, Fredericksburg, Virginia Beach, and Leesburg. To learn more about our extensive range of SpacePak, Concord, Allied Commercial, and Bard HVAC equipment, contact us today!