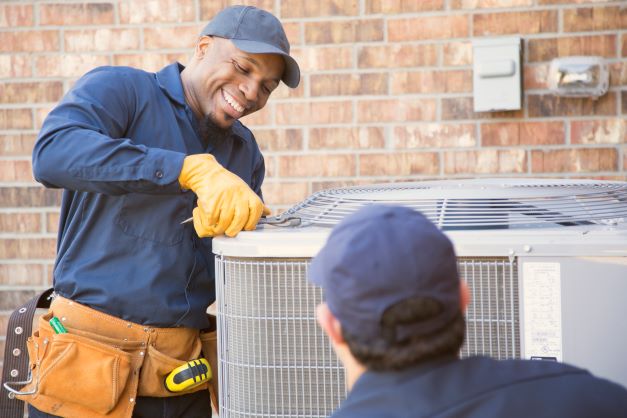 An HVAC retrofit involves adding new components or technology to an existing system. These upgrades are installed to bring the outdated gear up to current standards, extend machinery lifespan, or improve overall functionality. Here's why you should consider retrofitting your commercial HVAC system.
Reduced Utility Costs
A well-performing HVAC system means improved efficiency and lower energy costs. Upgrading components by retrofitting means you can see reduced utility costs. With modern thermostats, you can further enhance your efficiency, which means even more cost savings. The higher the rating, the more efficient the component, which translates to lower bills over time
Increased Energy 

Efficiency
LEED certification, green building materials, and energy efficiency are becoming increasingly popular for buildings. Modern equipment provides more environmentally friendly options, so retrofitting can give your commercial HVAC unit more green options.
Lower Maintenance Costs
Businesses and property owners often notice frequent repairs as HVAC components often break down. By installing new ones, retrofitting alleviates unnecessary repairs on run-down parts. New components often come with warranties, so if there are any issues with the upgraded features, the repair is covered. Just be sure to keep up with your routine and preventative maintenance to keep warranties valid.
Improved Indoor Air Quality 
Poor air quality is linked to allergies and illnesses affecting your commercial property's inhabitants. Retrofitting new air filtration components can boost healthy airflow by filtering out dirt, dust, and other contaminants.
We Are Proud of the Company We Keep
William E. Kingswell has been a distinguished commercial and residential heating and cooling service provider since 1937. We have provided unmatched customer service to all of our clients. We enjoy being the preferred HVAC equipment distributor of countless customers. We offer a comprehensive range of high-quality heat pumps, boilers, unit heaters, HVAC accessories, and more. William E. Kingswell works with businesses and homeowners throughout Maryland, Washington, D.C., and Virginia, including Baltimore, Frederick, Annapolis, Fairfax, Manassas, Richmond, Fredericksburg, Virginia Beach, and Leesburg. To learn more about our extensive range of SpacePak, Concord, Allied Commercial, and Bard HVAC equipment, call us at 301-937-1900 or contact us today.