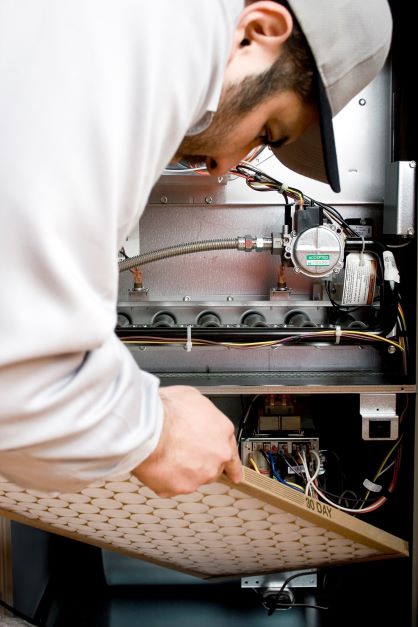 Data centers must provide reliable services and be easily scalable to grow with demand. The HVAC system in any data center has a critical role in both. Proper cooling and humidity management are essential to keep servers and other equipment running and undamaged. Plus, to quickly scale, you need an HVAC system that can expand with you without needing to re-duct or rewire the whole thing. HVAC technicians with advanced skills can help you plan an HVAC installation for your data center to provide reliable, scalable cooling and humidity control. Here's what you should do when preparing for an HVAC installation within a data center. 
Calculating Your Cooling Needs
When equipment gets too hot, it fails. So, data centers must carefully calculate their cooling needs, add redundancy, and supply that cooling where needed. Calculating your cooling needs starts simple and quickly requires an HVAC expert's help. A basic calculation of your cooling needs starts with assessing how much heat your equipment will generate. You must consistently reduce this heat to 64.4 and 80.6 degrees Fahrenheit and a dew point of 15.8 to 59 degrees Fahrenheit.
Managing Humidity in a Data Center
It is also critical for your HVAC system to manage your humidity. Too low, and the humidity will cause static, harming sensitive electrical equipment. Too high can cause condensation and all the damage that goes along with that. Experts recommend a relative humidity of 60 percent in data centers.
HVAC System Options for Data Centers
What kind of air conditioning do you need for your data center? There is specific equipment available for your purposes. Some of the standard ventilation and air conditioning options include computer room air conditioners and hot aisle/cold aisle containment.
The Importance of Ventilation
Almost all of the equipment in your data center will require dedicated ventilation. Other activities which may take place in a data center, like 3D printing and soldering, also require ventilation. Again, the professionals are your best resource to ensure you're getting the needed ventilation.
We Are Proud of the Company We Keep
William E. Kingswell has been a distinguished commercial and residential heating and cooling service provider since 1937. We have provided unmatched customer service to all of our clients. We enjoy being the preferred HVAC equipment distributor of countless customers. We offer a comprehensive range of high-quality heat pumps, boilers, unit heaters, HVAC accessories, and more. William E. Kingswell works with businesses and homeowners throughout Maryland, Washington, D.C., and Virginia, including Baltimore, Frederick, Annapolis, Fairfax, Manassas, Richmond, Fredericksburg, Virginia Beach, and Leesburg. To learn more about our extensive range of SpacePak, Concord, Allied Commercial, and Bard HVAC equipment, call us at 301-937-1900 or contact us today.