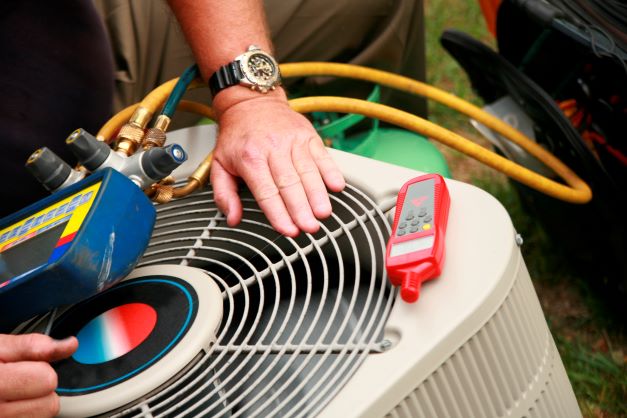 How often should I have my HVAC system serviced? This is a question that is regularly posed to us. Unfortunately, there isn't a single, all-encompassing solution that can be applied to all systems and clients. In this blog, we'll examine the factors impacting HVAC system maintenance. 
The Size And Type Of HVAC System That You Have 
Do you have any different types of HVAC systems? Certain HVAC equipment types require maintenance more regularly than others. For instance, a boiler-based heating system is simple and dependable and most likely only needs an inspection and cleaning once a year. On the other hand, many more things can go wrong if you have a complicated cooling system that provides cooling and heating for a sizable zoned business. And if something does go wrong, the effects could be worse. To avoid downtime, you should have that inspected multiple times throughout the cooling system.
The Age And Condition Of Your Equipment 
If your heating and cooling system is old and has recently been unreliable, it is prudent to seek more frequent repairs and maintenance for your HVAC system. This will allow your technician to spot defective parts and swap them out before they seriously harm your system. Additionally, you'll get a heads-up if a system replacement is necessary, giving you more time to plan for the price of the repairs rather than having to move.
The Location And Placement Matters
Where is the location of your HVAC equipment? It requires more frequent cleaning to maintain it if it's on a rooftop, for example, because it's exposed to weather elements. It is also simpler to keep and won't require as much cleaning if it's in a mechanical room. It's essential to consider the air quality in your room. The amount of fibers that can float around those areas requires regular maintenance, including frequent filter changes and equipment cleaning. HVAC systems must be used more frequently in industrial buildings and areas exposed to many vehicle emissions.
We Are Proud of the Company We Keep
William E. Kingswell has been a distinguished commercial and residential heating and cooling service provider since 1937. We have provided unmatched customer service to all of our clients. We enjoy being the preferred HVAC equipment distributor of countless customers. We offer a comprehensive range of high-quality heat pumps, boilers, unit heaters, HVAC accessories, and more. William E. Kingswell works with businesses and homeowners throughout Maryland, Washington, D.C., and Virginia, including Baltimore, Frederick, Annapolis, Fairfax, Manassas, Richmond, Fredericksburg, Virginia Beach, and Leesburg. To learn more about our extensive range of SpacePak, Concord, Allied Commercial, and Bard HVAC equipment, call us at 301-937-1900 or contact us today.